'Invisible Strength – Living with Ehlers-Danlos syndromes' – 2nd EDS Anthology To-Be-Published! Still Accepting Submissions!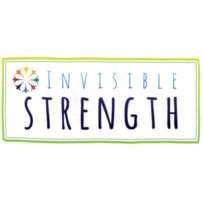 'Invisible Strength – Living with Ehlers-Danlos syndromes' – Still accepting submissions!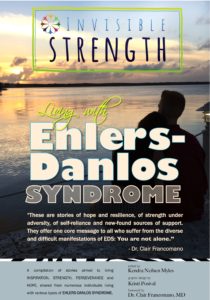 Anticipated publishing date: 2018 (Exact date TBD)
Email: submissions@ourstoriesofstrength.com or info@ourstoriesofstrength.com
You can also submit a story through our website here. 
Join us socially!
Facebook – Invisible Strength – Stronger 2 Gether
Facebook – Our Stories of Strength 
Twitter – @StrengthStories
Twitter – (Invisible Strength) @Strnger2Gether
Instagram – @ourstoriesofstrength
Tumblr – @OurStoriesOfStrength
About the 'Invisible Strength – Living with Ehlers-Danlos syndromes' anthology (2nd published EDS Anthology):
Every day, people are displaying courage, strength, determination, and more as they navigate through the ups and downs of living with various types of Ehlers-Danlos Syndromes (EDS), Hypermobility Spectrum Disorders (HSD) and other hypermobility-related syndromes. 'Invisible Strength – Living with Ehlers-Danlos Syndromes' is looking to share good-news stories from people like you who have chosen to change what could be a disability into an inspirational example of living life. Our stories are never "complete." Please do not feel as though you need to be in perfect health to make a difference in the lives of others living with all types of EDS, HSD or other hypermobility-related syndromes.
The following questions were posed, leading to the inception of an anthology geared to sharing our stories, as a collective group.
If you could reach out and share one moment from your own journey in living with EDS that would inspire someone who was just diagnosed, what would you say?
Is there a pivotal moment in which you went from a life defined by EDS to living in harmony?
Do you have a story that will inspire others to dig deep within themselves to change their lives and defy what doctors determined as their outcome?
These stories are not autobiographies recounting every aspect of your journey, but about one single event or a couple of closely related events. The premise behind the book is to deliver hope, humor, joy, and a hearty dose of personal success into the readers living with EDS and their loved ones. All submissions should be reflective of this purpose.
Information about what is an 'Invisible Strength' story (formally referred to as 'Our Stories of Strength') can be found here. We are accepting submissions for the Living with Ehlers-Danlos Syndromes Anthology volume 2 – date TBD (est. 2018). Submitting your story is the first step. Once received, we will send a confirmation of receipt email back. When we are ready to publish, we will contact those whose stories have been accepted for publishing.
We look forward to bringing your voice and triumphs to others in the EDS, HSD & broader hypermobility-related disorders communities! Again, the link to submit your story through our website is here.
Important Information and community update concerning the 1st EDS Anthology – 'Our Stories of Strength – Living with Ehlers-Danlos syndrome' (May 2015):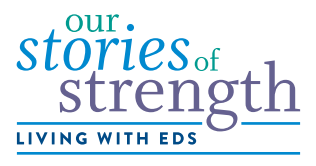 The first EDS anthology – 'Our Stories of Strength – Living with Ehlers-Danlos Syndrome' was published in May 2015. It quickly became an amazing and exciting resource for the entire EDS community – one we were so proud of! However, as in life, we often learn the most about business, especially a new business formed in an unfamiliar industry, as we go through it. The same hard truths often apply those we work with — by choice or not. Click to read an important business & community update related to the original EDS anthology posted by Kendra Neilsen Myles in February 2016.
The original publishing company, Our SOS Media, LLC, was legally disbanded after 2015 due to unforeseen and disheartening circumstances referenced in the statement above (see link). Per the guidance of a team of appropriate business counsel, sole publication rights for the 1st EDS anthology was legally transferred to Sisters Media, LLC (originally named Our Stories of Strength, LLC). Copyright of the 1st Anthology is owned by Sisters Media. The Our Stories of Strength trademark was registered for and is owned by Kendra Neilsen Myles. Additional business-related documents and pertinent documentation is being uploaded and will be available publicly. 
Click here to view the Amazon.com listing; however, 'Our Stories of Strength – Living with Ehlers-Danlos Syndrome' is, unfortunately, currently unavailable on Amazon or other online retailers. If interested in obtaining copies of this anthology, please visit Order Books. You can also visit EDS Wellness' store – 100% of the proceeds (if remaining printed copies are still available) from all book sales through EDS Wellness' e-store help support EDS Wellness' programs, initiatives, events and continuing medical education activities for healthcare providers.
Authors included the original EDS Anthology are encouraged to send an email with questions, or if interested in obtaining copies to kendra@ourstoriesofstrength.com. For all other Anthology-related questions or business inquiries, please email info@ourstoriesofstrength.com.